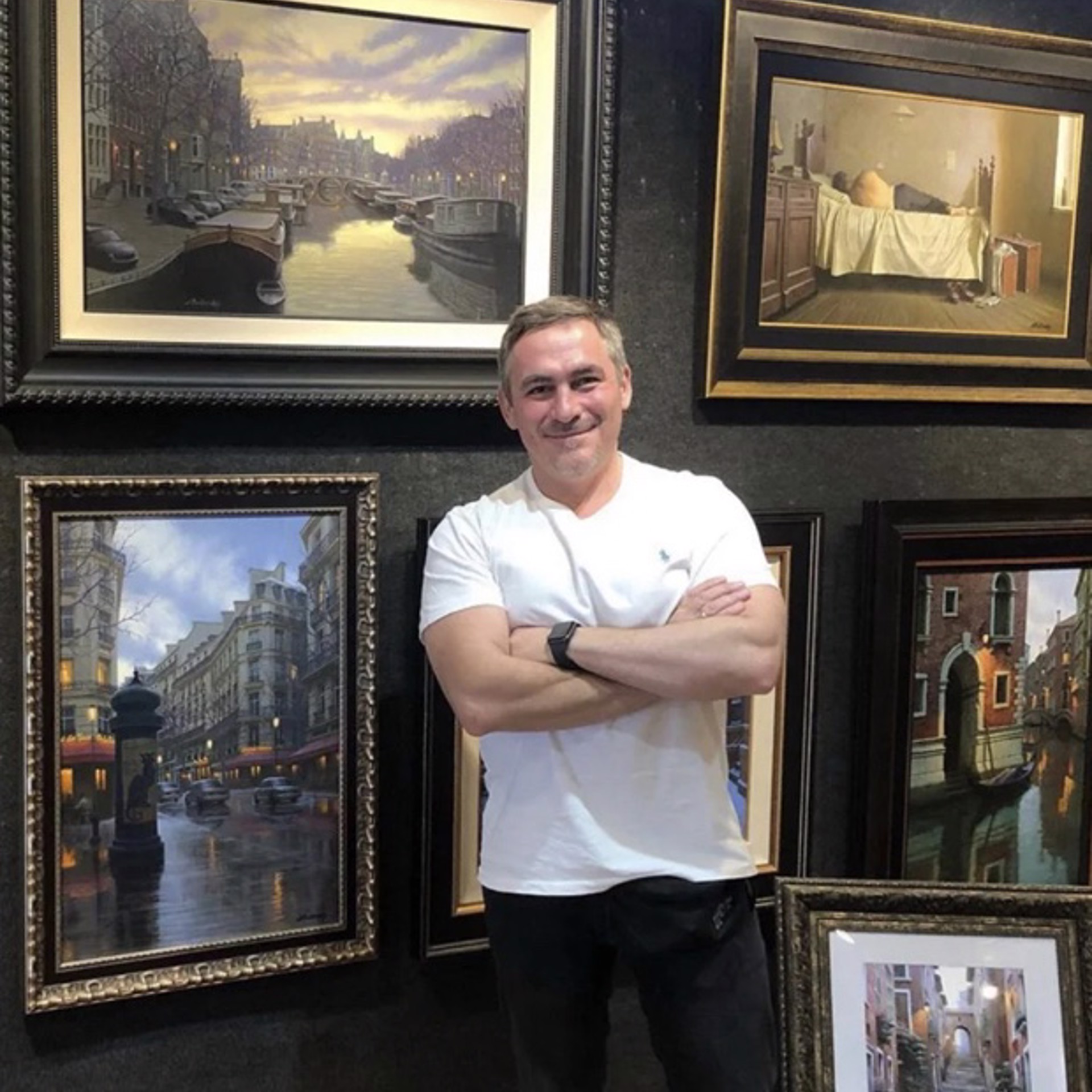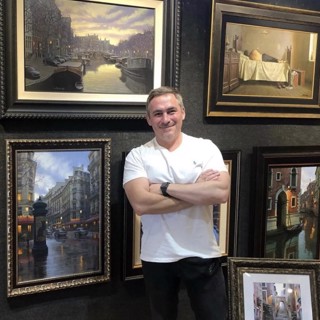 Master Alexei Butirskiy is an Artist who uses
his brushes in the same manner
an orchestra conductor uses his baton.
Any scene he represents, can be a landscape
in winter or autumn, can be a view
of a city from the street or from the roofs,
has an element that no other artists
ever - except the greatest - have accomplished:
they have a soul, a real, living soul.
And this is what makes the difference!
Meet the artist
Born in Moscow in 1974, Alexei Butirskiy is a classically trained painter, who received his MFA in 1998 from the Ilya Glazunov Russian Academy of Painting, Sculpture and Architecture, one of the most prestigious art universities in the world.Since 2000, Butirskiy has participated in over 250 exhibitions, most notably in the Victor Emmanuel II National Monument in the Piazza Venezia, Rome (2007), the Marietta Cobb Museum of Art in Atlanta (2014), several museum in (Casablanca), Morocco and other. Alexei's favorite subjects are urban landscapes depicting the daily life of cities without pathos or embellishment.
"I pay full attention to the surrounding world.
To life itself - that is the source
of my inspiration. Perhaps my inner romanticism moves me to select fleeting and transcedent moments, such as twilight, dusk, sunset, sunrise, first light, rain showers, evening reflections - transitory, etremely emotional, concentrated events, such as the clean, crisp freshness of a city just washes by the rain. "
The strength and intensity of the play of light and shadow are the main expressive means of Butirskiy's works, which glow from within and demonstrate virtuoso use of chiaroscuro. The sophistication and skill with which Alexei portrays architectural objects in his works, as well as his sense of color and form, cannot leave anyone indifferent.Thanks to his talent, he rightfully belongs to the elite of contemporary Russian artists. Alexei Butirskiy's works are proudly exhibited in galleries across the United States and Canada, as well as in private collections in France, England, Austria, Germany, Switzerland, Canada, Russia, Morocco, and
the United States.
Read More